How to clean your bike chain ?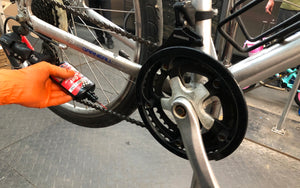 Did you know that it is important to maintain your bicycle chain regularly? Regular cleaning of your chain will prevent unpleasant squeaking sounds and will prolong its life. 
What you need:

- Degreaser

- Chain cleaner or chain brush

- Clean rag

- Bike chain lubricant
Step 1: Installing the Bike

Before you start, place your bike on a stable stand. If you don't have a bike rack you can just turn it over and put it on the saddle and handlebars.

Tip : Keep the wheels off the ground so you can operate the pedals during cleaning.
Step 2 : Degrease

If you are using a chain cleaner, open it and pour in some degreaser. Attach the cleaner to the chain and operate the pedal.

If you don't have a chain cleaner, pour degreaser on your chain by operating the pedal to spread the degreaser all over the chain and scrub with your brush to clean between the links.

Tip : Brush while turning the bike chain, on the sprockets, chainrings and the gear. 



Step 3: Remove the degreaser

Rinse your chain to remove excess degreaser and dry it with a clean rag.

Tip : Repeat steps 2 and 3 if the chain is very dirty.
Step 4 : Lubricate the chain

Once your chain is clean of dust, put a few drops of lubricant on each link.

Tip : Lubricate the part of the chain closest to the ground to prevent it from dripping onto the bike frame. Remove excess lubricant to prevent dust from sticking to the chain.



---
---
Leave a comment
Comments will be approved before showing up.